Howard University to Offer Certificate in Financial Planning
Dr. Barron Harvey, Dean of the Howard University School of Business announced today two new exciting programs:
The Virtual Classroom Certificate in Financial Planning and the Self-Paced Online Certificate in Financial Planning Programs will be offered by the university in partnership with Dalton Education beginning immediately. The Virtual Classroom Certificate in Financial Planning Program is a live-online, instructor-led, comprehensive financial planning education program that satisfies the education requirement to sit for the CFP® exam. Students can take this class from the comfort of their home or office without worrying about traffic, parking, or leaving work early.
The Self-Paced Online Certificate in Financial Planning Program also satisfies the CFP® certification education requirement and is designed for students who prefer self-paced learning but are too busy to commit to regularly scheduled class meetings. This variable learning method will result in students being able to successfully complete the program, in as much or as little time that they need, in order to gain a complete and thorough understanding of the material.
Howard University's School of Business has been a model for higher education since its founding in 1970. The innovative, new CFP® certification education program will expand the offerings of the school and garner additional attention for Howard University graduates within the financial planning field.
"The new Virtual Classroom and Self-Paced Certificate in Financial Planning programs are a significant development that address a growing need in the financial planning community for educated planners and advisors," said Dr. Barron Harvey, Dean of the Howard University School of Business. "By working with Dalton Education, we are now able to extend our highly regarded program to students across the country and grow the career prospects of the Howard University Financial Planning program graduates."
In conjunction with the initiative launched by the CFP Board in 2017, Dalton Education has also launched a diversity initiative that is aimed at expanding the gender and racial diversity within the financial planning profession. Financial Assistance for women and minorities interested in a career in financial planning are available for Dalton CFP® certification education programs including earning an education certificate from Howard University. Partnering with this premier HBCU, Howard University, to offer CFP® certification education courses is another step towards building a stronger and more diverse financial planning community.
"A partnership between Howard University and Dalton Education brings together two organizations committed to excellence," said Joseph Gillice, president of Dalton Education. "We look forward to working with Howard University to offer virtual classroom and self-paced online financial planning education programs. This partnership will raise awareness about careers in financial planning, provide students lifelong personal financial planning skills, and satisfy the education requirement for CFP® certification."
For more information about the CFP® certification education program and how to obtain a certificate from Howard University School of Business, contact Chel Bernard 678.727.2344 or chel@dalton-education.com or visit https://dalton-education.com/howard-university
About Howard University
For the 12th consecutive year, The Princeton Review has ranked the Howard University School of Business #1 in opportunities for minority students. Since 1970, over 3,500 alumni have graduated from this department and represent the largest number of African Americans on Wall Street. The Finance program offers comprehensive, intensive, and rigorous curriculum for students who wish to pursue careers in corporate finance, investments, investment banking, commercial banking, financial analysis, personal financial planning, and other areas of the global financial services industry.
About Dalton Education
Dalton Education is a leading provider of innovative education programs in CFP® certification. Dalton CFP® education and review programs are delivered through a virtual classroom (live online), self-paced online, and traditional classroom formats. Dalton Education also offers an exclusive Guarantee to Pass™ program which is a 100% money-back guarantee that students will pass the CFP® exam or receive a full refund. Dalton Education has helped over half of the 80,000 CFP® professionals in the country earn the CFP® mark through textbooks, education programs, and CFP® exam reviews.
Archives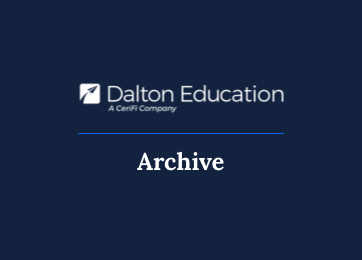 Last Minute Tips to Pass the CFP Exam
With only two more days remaining until the March 2014 CFP exam, here are a few tips to help ease the stress and anxiety as exam day approaches....
Read More
What Professionals Say About Dalton
"I recommend Dalton's CFP study program to anyone who is planning to sit for the test.  It is thorough, well guided, and offers many resources for individual support.  I can honestly say that I went into the exam KNOWING that I was going to pass."
Amanda B.
"It came down to the enrollment advisor's responsiveness in addressing my questions/concerns as primary and then the ability to be flexible with online courses and working through the coursework. Absolutely would recommend Dalton! After having taken the exam (and passed!) last week, I appreciate Dalton's questions even more as they were more realistic to what I saw on the exam. Thank you! Keep up the good work!"
Morgan B.
"Combined with hard work and dedication, Dalton Education made sure I had what was needed in order to succeed. Without their experience, diligence, and structure, I would have spent more time worrying about what to study and when rather than putting in the hours needed to pass. Dalton knows how to get it done the first time around!"
Monica Y.
"I have thoroughly enjoyed the Dalton Education CFP study program. I completed the 10 week review for the exam, including a 4 day live review. I successfully passed the CFP exam and I owe my success to Dalton and their incredible team of instructors. The Dalton materials, coursework, virtual classroom and schedule are not only intuitive and user friendly for a working mother, but they are top notch. I felt prepared for the exam, and after passing the exam I realized how Dalton had not only prepared me for everything but they over prepared me. I have a deep understanding for financial planning, and I look forward to taking my career to the next level. Thank you Dalton! A huge shout out to a team of highly intelligent and helpful instructors!"
Lindsay W.
"Dalton provided me the materials, resources, and structure that I needed to complete my certification. From the beginning, I greatly appreciated a detailed schedule for staying on track with the material while allowing you the flexibility between deadlines to manage your work and personal life alongside my certification work. It helped me plan study time accordingly and gave me a practical benchmark for preparation time. That said, each professor teaching the material stood out to me whether it was because of their experience with the CFP exam, pedigree, and/or knowledge and presentation of the material."
Forrest P.
"What I love about the CFP course through Dalton is the flexibility.  I have co-workers who are taking the program through other providers and they are stuck all day on a Saturday reviewing and taking tests – not for me.  Also, the exam prep materials are amazing!  I love the flash cards and the Quick Sheets. The instructors are amazing and I have felt very supported along the way.  I would definitely recommend Dalton to others."
Jayln P.
Earn your CFP® Certification